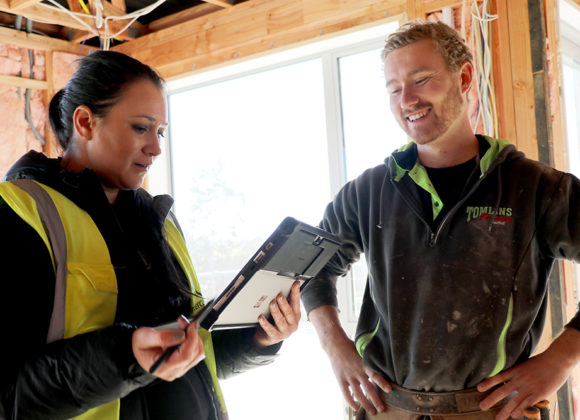 The death of the clipboard is imminent as the Invercargill City Council Building Services team goes digital.
Building inspectors have this week begun electronic inspections – swapping their clipboards for tablets.
Electronic inspections are the first step in the rollout of Go Get – a suite of applications and services which simplifies the building consent and inspection process for both Council and its customers.
Building Services Team Leader Michael Hartstonge said the Go Get software, along with website Simpli, and an app called Go Build, would work together so the entire consenting process may be undertaken digitally.
"It means we will be able to spend more time with the customer, talking to them, rather than dealing with paperwork."
An 'electronic inspection' is where a building consent officer is able to fill out their inspection notes on their tablet while on site, rather than through a paper check list.
Inspection results are available digitally, with inspectors now able to email results to customers rather than needing to print off copies to attach to consent files.
It is hoped the full consenting process, including applications, will go digital by 2020.
"There will be huge efficiencies gained, not just by us as staff, but by the customers too," Mr Hartstonge said.
Gone will be the days of rushing in to Council to get your paperwork in on your lunch break, only to find you are missing an essential element of your application.
"Customers may not need to come in to Council for consents at all anymore," he said.