At the moment, the way electricity transmission prices are spread across New Zealand isn't fair or equal. Even though New Zealand's electricity is generated here, the people of the South are actually subsidising the transmission costs of people living in other parts of the country.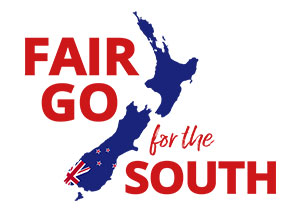 Consumers in Southland pay the same rates for electricity transmission that consumers further north pay. People living throughout most of the South Island and parts of the central and lower North Island have subsidised grid upgrades in Auckland, but we don't get to enjoy any of the benefits of them.
It seems pretty unfair, especially when we pay more for things like roading and diesel because of where we live.
The way costs are spread out doesn't just affect your wallet. It also affects our industries. Southland businesses – big and small – pay more in transmission costs than businesses further up the road.
When our region is trying to attract more people, the advantage we could have in attracting businesses to set up in the South is lost. We think things need to change, but we need your help.
In December last year, the Electricity Authority opened a review into the way transmission prices are allocated. It's important the voice of the South is heard. People and regions should pay for what they use: the South wants a fair go.
You can make a submission to the Electricity Authority here. Submissions close

at

5pm

on Friday, 24 February 2017. Join us in our fair pricing campaign and make sure the voice of the South is heard.
Frequently Asked Questions
What is the Electricity Authority's Review of Transmission Pricing Methodology?
The Electricity Authority decides how electricity transmission costs are allocated throughout the country. At the moment, the authority is calling for public submissions on its review of the way these costs are allocated.
Why should Southlanders make a submission on this issue?
It's about getting a fair go. At the moment, those of us here in the south are subsidising the electricity transmission costs of people living in other parts of the country. The four councils in Southland – Gore District Council, Southland District Council, Environment Southland and Invercargill City Council – have joined together to spearhead a campaign to make sure the south's voice is heard, and the system is made fairer and more equitable.
How can I get involved?
You can make a submission here. Submissions close at 5pm on Friday 24 February. We're also calling for Southlanders to get involved in our campaign on social media. Check out the ICC's Facebook and Twitter pages.