During Conservation Week, Sunrise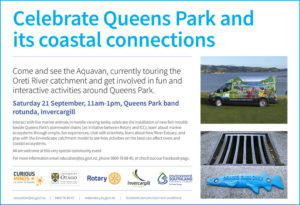 Rotary and ICC have planned a special project to help draw attention to the importance of keeping our stormwater network clean. Council Stormwater Technical Officer Michael Sollitt explains:
New Zealand's Conservation Week is celebrated this month between 14 and September 22.
As part of this, Environment Southland, University of Otago, Sunrise Rotary, and Invercargill City Council are planning an event at Queens Park on Saturday, September 21.
Aimed at celebrating Queens Park's coastal connections, a project initiated by Sunrise Rotary will be implemented during the event, as dozens of plastic fish will be installed at stormwater drains throughout the park.
The fish installation project came about last year after the Sunrise Rotary Club invited ICC staff to speak with them about our stormwater network.
Following the meeting, a member of their water and sanitation Rotary action group approached us about their ambition to paint fish over all of the kerbside sumps in Invercargill.
The project has since been refined to install high quality 3D plastic moulded fish in an area of the city with a large amount of foot traffic – Queens Park.
We are installing 67 plastic fish throughout the park, with five different types of fish to be installed – Snapper, Trout, Kokopu, Eels and Dolphin.
This work aligns with other activities our team have been undertaking to increase awareness of what should – and shouldn't go into the stormwater network, given it discharges to streams and rivers in the area.
The Conservation Week event at Queens Park is on September 21, 11am-1pm