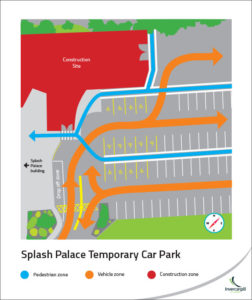 By Peter Thompson
Manager Aquatic Services
With construction beginning on the new hydroslides at Splash Palace we've had to make some changes to our car park to ensure that we can get the job done and keep everyone safe moving around the construction zone and through the facility car park.
The graphic shows how the car park will look during the construction phase; cars entering the facility will swing right just prior to the pedestrian crossing to miss the construction zone around the hydroslides – don't worry if it looks tricky! We'll have the car park marked up with paint and barriers to make it as easy as possible for you to navigate these changes.
Please note that the accessible car parks in the construction zone will be out of action during this time; we've added seven temporary accessible car parks to the remaining four for the period of construction.
Exciting times ahead! Thanks for your patience during this time.