Work will start at Splash Palace next month on additional changing rooms and a new foyer layout.
Alternative entry to the pool will be in place from May 7, with works already underway outside the building to provide that access.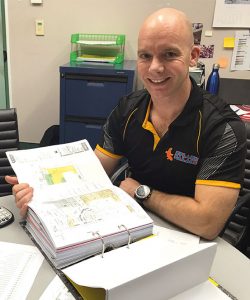 Aquatic Services Manager Peter Thompson said admissions have been growing dramatically during the past five to seven years.
"Admissions are now well beyond what they were ever expected to be when the pool was built. Newspaper clippings I've got from the time had people saying you'll never fill the pool up," Mr Thompson said.
"Not only is there not enough space for people in the changing rooms, but the building's systems weren't designed for that many people … I'm talking sewers, drains, and so on."
There was also a challenge from a user experience perspective, with the incredibly popular ILT Learn to Swim programme.
There was not enough space in the current changing rooms for public users as well as big groups of children arriving at the same time, Mr Thompson said.
The development includes two new open-space changing rooms, which will be big enough to accommodate  big school groups. The original changing rooms will be used by members of the public.
Another issue that will be addressed is the lack of changing facilities for people with disabilities.
"We promote the facility as being accessible for people with disabilities or impairments. It really is a travesty that until now we've only had one disabled changing room with a toilet in it,  so we're adding two more changing rooms for those people," Mr Thompson said.
The foyer development will happen at the same time as the new changing rooms.
Mr Thompson said the present location of the reception desk meant that when the pool was busy, the queue of people waiting to be served could extend out the door.
The foyer redevelopment will also include new technology, so that people with membership cards can scan and enter, which will mean easier access for everyone. "It will improve customer experience greatly. We're also looking at other options for improving our membership system," Mr Thompson said.
The construction of the new changing rooms and redevelopment of the foyer will start on May 14, with the existing entry way, foyer, and reception closed to the public during the upgrade. However, there will be a temporary reception and retail area via the temporary access way, which will be located on the north side of the pool building and accessible from the car park. The café, Liquid, will still be operational.
Work could continue through to February 2019, and is expected to cost about $1.49 million.