The fitness classes timetable is available here:
Splash Palace Fitness Classes (classes from 1 July 2017)
Cost
$8.50 a class (Rock and Splash is normal admission price) or $3 with existing membership
$76.50 for 10 classes
Aqua Aerobics
Classes are medium intensity held in both shallow and deep water.
Aqua Fit
High Intensity water-based workout suitable for all levels held in shallow and deep water.
Bootcamp
Want fast results? This motivating and challenging class is for you! Suitable for anyone who is set on keeping fit and seeing results.
Boxing
Not keen on lifting weights? Then boxing is for you!  Suitable for all fitness levels.
Fab Abs (30min class)
Full core workout suitable for all levels.
Pathway to yoga
Have you ever been interested in yoga but afraid to give it a go? Come along to this introductory level class.
Pilates
Introductory level class, perfect for improving core strength, flexibility, stability, improved posture and balance.
Rock 'n' Splash
Low to medium intensity held in both shallow and deep water. Cost for this class is normal admission.
Sunrise stretch (30min class)
Full body all level stretch class. Perfect for general mobility through to enhancing sports performance.
Yoga
Suitable for participants who have been attending our pathway to yoga class and want a more challenging class.
Meet the Group Fitness Instructor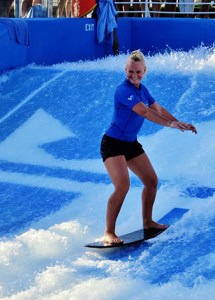 Virginia Pile grew up in Southland and has always had a passion for exercise and fitness; as a youth she had a keen interest in competing and coaching Sport Aerobics. This is when she realised her true passion was in motivating and encouraging others to achieve their fitness goals.
She studied Personal Training and Exercise Prescription at the Otago Institute of Sport and Adventure, graduating with an A overall. She also studied fitness at the Steiner Fitness Business School in London, England.
During her time on cruise ships she worked as a personal trainer and sports instructor specialising in detoxification, nutrition and exercise. Virginia (pictured at right) is now bringing her expertise to you! If your goal this year is to improve your health, fitness or body, then come along and try the variety of classes she has on offer.