Splash Palace is excited about its new Aqua Fitness timetable and to introduce to you Bailey from Fusion Fitness, who will be instructing these awesome classes.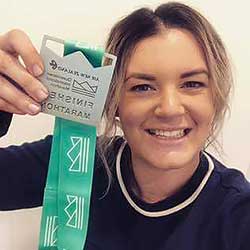 Bailey (pictured) is a Group Fitness instructor, Personal trainer and a Remedial Massage Therapist specialising in rehabilitation. She holds a degree in Therapeutic and Sports Massage, a Post Graduate Certificate in Rehabilitation, a Certificate in Personal Training, is a qualified aqua fitness, Metafit, TRX and self-defence instructor.
Bailey takes a creative approach to training and group fitness and is passionate about making workouts fun and suitable for all abilities.
Aqua classes are for all ages and fitness levels and will be tailored to meet the needs of participants so come on in and try out a class!
Download the Aqua Fitness information flyer
Timetable
Monday
8am: IMPACT AQUA – shallow water
7.30pm: AQUA-X
Tuesday
8am: SPLASH – deep water
Noon: IMPACT AQUA – shallow water
Wednesday
8am: IMPACT AQUA – shallow water
7.30pm: AQUA-X – shallow water
Thursday
8am: AQUA MOVE-MINT – shallow water
Noon: SPLASH – shallow water
Friday
8am: SPLASH – deep water
Download a printable version of the fitness classes timetable