Work to improve safety at the Exmouth Street – St Andrew Street intersection starts on Monday, 15 January 2018. Local residents have been advised that the intersection and footpath will be closed for up to three weeks.
The work involves road reconstruction and resurfacing with asphalt, followed by kerb and channel and footpath replacements. The work will be completed between 7am and 7pm, Mondays to Fridays.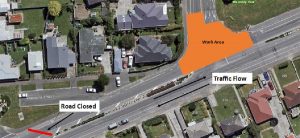 The contractor, Downer NZ, will provide access for people living in Newcastle Street and at No 2 Exmouth Street to get to their properties. These residents should exit towards the road closure and merge with traffic as vehicle movements allow.
Traffic flow on St Andrew St will be south of the existing traffic islands; traffic will not be able to travel south along Exmouth St on to St Andrew St. Refuse and recycling collections will not be affected.
The Council and the contractor understand this work will cause some disruption and any inconvenience is regretted.
For more information contact Council Projects Manager Tim Connell by email or phone ( (03) 211 1777).