Education in Suqian, as in the rest of China, is considered to be of vital importance.
Great emphasis is put on educational achievement at all levels, as it is seen to be the key to securing a good job in a highly competitive, highly populous society.
Students in China begin learning English aged five, as it is seen to be the key language for business and commercial opportunities as China becomes more and more open to the outside world.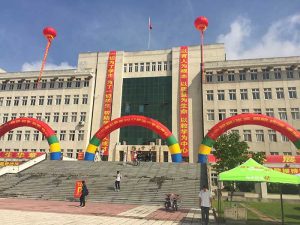 Sqian, under the leadership of Mayor Wang, is keen to progress educational opportunities between our two cities to foster communication and language skills.
With this in mind, he has offered to send a Mandarin teacher to Invercargill, to provide students here with the opportunity to learn the language.
A group of high schools in Suqian and the English Faculty of Suqian University (known as Suqian College) have also expressed interest in fostering educational exchanges with Invercargill, so students can practise and develop their language skills.  The students themselves have also expressed a desire to visit Invercargill not only to refine their language skills but also to learn more about life in countries outside China.
The Council has arranged to meet with representatives of Invercargill's secondary schools to see what common ground can be reached on these issues.
The Southern Institute of Technology is also fostering relations with Suqian College with a visit by senior staff member Dr Terri McClelland to the Suqian campus in October 2017.
SIT has also been working to try and assist with placement of a native-speaking English Teacher to assist students with English conversation, reading English newspapers and to develop knowledge of the English speaking world.
Discussions on these topics are still in the initial stages and will be carefully progressed over the coming year.