Council-owned aquatic centre Splash Palace was one of the first places in Southland to convert to a woodchip boiler.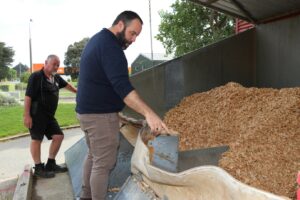 The lignite boiler at the facility was replaced by a woodchip boiler at a cost of $650,000 in 2012.
Manager Aquatic Services Steve Cook said before the switch, about 1000 tonnes of lignite had been burnt annually, emitting about 2000 tonnes into the atmosphere every year.
Since the switch, the pool goes through about 1000 tonnes of woodchip a year. Because it weighs more than lignite, more storage space is required, resulting in the installation of more woodchip bins in 2016.
While woodchip is more expensive than lignite, it isn't as harsh on the equipment and it creates a cleaner, safer environment for the pools team to work in.
Another environmentally-friendly benefit of woodchip is that it produces significantly less ash than lignite.
Using lignite boilers produced enough ash to fill a wheelie bin that was dumped at the landfill on a monthly basis at the cost of about $25,000 a year.
Now, the significantly smaller amount of ash produced from the carbon-neutral woodchip is mixed with compost and redistributed on the city's gardens.
The woodchip used is also sourced from local timber distributor Niagara.
"Overall, it's cleaner for the city and a better environment for the team to work in," Cook said.
"I'm really proud that we've been able to make Splash Palace more sustainable. It's an important investment for the community and one I'm sure everyone can get on board with."
Another advantage of using woodchip boilers was that the temperature in the leisure pool had increased by a degree to 31C, which meant a more pleasant experience for swimmers, he said.
Others in the region are following the Council's lead and switching out lignite boilers for woodchip boilers in facilities such as schools and rest homes.