The next stage of the Tay Street Foul Sewer and Stormwater upgrade is starting this week.
As part of this, Conon Street will be closed to traffic travelling through the intersection with Tay Street tomorrow, with partial closure starting today. Conon Street will remain open south of the Tay Street intersection, as will the entrance to Pak'nSave off Conon Street.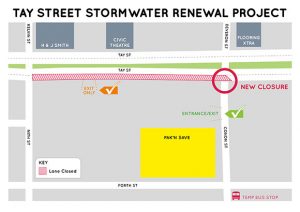 Shoppers heading to Pak'nSave are encouraged to come from the south to do their shopping. Please be aware there will be no entry to the Pak'nSave carpark from Tay Street.
Tay Street will remain open at all times but will continue to be reduced down to a single lane between Conon and Nith Streets. The footpath will remain open at all times, however pedestrians are reminded that the Civic Theatre crossing is still closed, and to cross the road at the intersections of Tay Street and Nith Street or Conon Street.
The Tay Street exit from the Pak'nSave carpark will reopen on Thursday.
Also important to note, the Conon Street bus stop outside the Southern Institute of Technology (immediately south of Tay Street), is temporarily moving one block south (so that it's south of Forth Street).
These changes will remain in place for the next 10 days while work is carried out. Thank you for your patience.