The Southland Museum and Art Gallery is making its annual appeal for Southlanders to bring in live huhu grub larvae to feed the museum's 100-plus tuatara.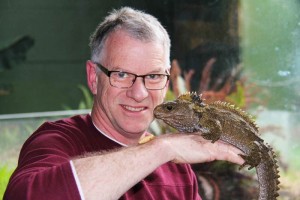 Museum Tuatara Curator Lindsay Hazley  (pictured) said the tuatara are coming out of hibernation and need to feed.
"Each tuatara consumes 50-80 huhu grubs or locusts a year. Spring and summer is their binge period when they build up body fat," Mr Hazley said.
They may feed twice weekly, subject to the weather. If we have a warm week, they'll feed twice. They need their body temperature high to process their food,"
Although the Museum was able to breed locusts to feed the tuatara, the locusts didn't grow fast enough and the food stock was running low.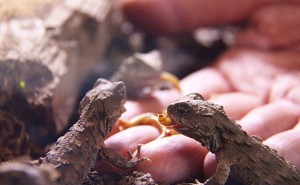 "We appreciate any donations of huhu grubs. If you're outside the city in the bush and see a dead log with holes in it the size of your finger, it's a sign it's infested with huhu grubs. If you break open the log you will be able to pick them out.
"Bring them in as soon as you can and separate them in the container within the sawdust from the logs. We will often feed some of the tuatara straight away when huhu grubs become available so people can see the whole cycle," Mr Hazley said.
"The young tuatara eat the smaller larvae, beetles, and worms. We also vitamin boost the insects. We are careful not collect food from within the city boundaries as the insects have built up immunities."