Water Services Entities Bill
Invercargill City Councillors opted to put in a submission to the Government's Water Services Entities Bill.
You can learn more about the Water Services Entities Bill and submit your thoughts by visiting parliament.nz
Currently 67 different councils own and operate the majority of the drinking water, wastewater and stormwater (Three Waters) services across New Zealand. In June 2020, the Government launched the Three Waters Reform Programme to reform local government Three Waters service delivery arrangements. Te Tari Taiwhenua/ Department of Internal Affairs is leading this review.
Local government across New Zealand is facing urgent challenges in the provision of these services including: funding infrastructure deficits, complying with safety standards and environmental expectations, building resilience to natural hazards and climate change into Three Waters networks, and supporting growth.
The Government's starting intention is to reform local government's Three Waters services into a small number of multi-regional entities with a bottom line of public ownership. The exact size, shape and design of these entities is still being worked through. Government expects the reform programme will be completed in 2024.
Our involvement with the process
Invercargill City Council is working closely with our regional and district councils and Ngai Tahu representatives to work through what the reforms mean for our communities and our Council. At this point Council has signalled alignment with Central Government policy in workshops and is fully engaged in the process.
We signed a Memorandum of Understanding with DIA at the end of 2020, as one of many Territorial Authorities engaged in the reform, and we are working regionally to explore options that could work for Southland and Otago. This includes identifying the following design features:
water service delivery entities, that are:
of significant scale (most likely multi-regional) to enable benefits from aggregation to be achieved over the medium to long-term;
asset owning entities, with balance sheet separation to support improved access to capital, alternative funding instruments and improved balance sheet strength; and
structured as statutory entities, with competency-based boards;
delivery of drinking water and wastewater services as a priority (the approach to stormwater is still being determined);
water entities would be publicly owned entities, with a preference for collective council ownership, and protections against privatisation; and
mechanisms for enabling communities to provide input in relation to the new entities.
Three Waters and our Long-term Plan
We know that legislative changes will impact the services Council currently provides, and may affect Council organisational structure. We also anticipate the level of service received by the customer/ratepayer may change over time, as this service will shift from Council to a new multi-regional entity.
Council is not changing its existing approach of continuing to maintain the Three Waters Infrastructure programme at appropriate levels. This is reflected in our Key Assumptions for the Long-term Plan, as well as our Infrastructure and Financial Strategies. Council will take account of the separation of water services from the Council operations but will continue to operate the services as a good steward of public assets.
Council is incorporating management of this potential outcome through considering implications of the removal of Three Waters on the future level of the debt cap.
While the Long-term Plan budget has not been amended to reflect removal of either assets or income linked to Three Waters, Council have considered and taken a conservative position in order to plan for this in relation to debt planning for strategic projects.
The implications of the removal of Three Waters on the asset base of Council – and as a result its debt ceiling – have been factored into planning for borrowing, particularly in light of debt to fund strategic projects. We have spread the cost of corporate services.
An opt-in or opt-out decision was expected to take place in late 2021, but as this has been mandated, a new body that will manage water is expected to begin operating in the 2023/2024 financial year. We had undertaken our planning for the Long-term Plan so that we were ready for both options.
Read the Long-term Plan here: https://icc.govt.nz/public-documents/long-term-plan/
What does the reform mean for the Invercargill community?
The Government has undertaken modelling for each Council for what they forecast the implications will be for communities of opting in and opting out of the reform.
Below is a snapshot of their forecast for Invercargill City Council.
When considering this information, it is worth noting:
The model includes information which is out of date or not able to be validated by Council. The correction to the data has a significant impact on the projection of the "No reform" option. Examples of this data is the opening Three Waters debt position and the Enhancement Investment required to meet the new water standards.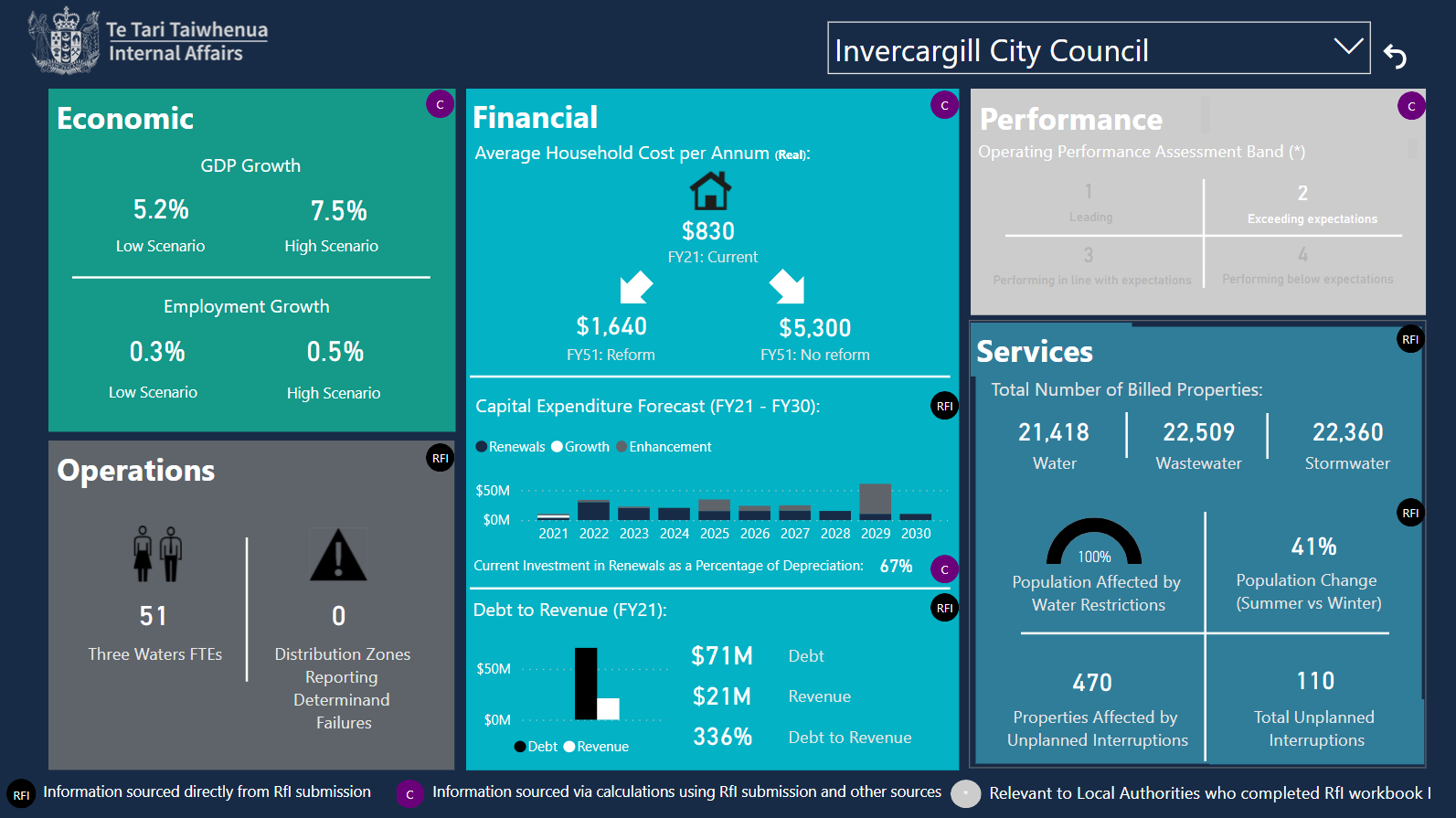 Review this information and other Council's information on the DIA website here: https://www.dia.govt.nz/Three-Waters-Reform-RfI#latest-update
What's next?
The Government is engaging further with Councils and Iwi as to what the governance structure of the new entities will look like.
Council will continue to work with Government on this process and on the transition as that begins towards the Government's goal of the new independent entity to begin the process of three waters delivery in the South Island in 2024.
How can I find out more information?
You can visit the Te Tari Taiwhenua/ Department of Internal Affairs Three Waters website at https://www.dia.govt.nz/Three-Waters-Reform-Programme