Traffic lights will be installed at the intersection of Deveron and Gala Streets to improve safety for motorists, pedestrians and other road users.
The installation work by contractors Fulton Hogan is expected to start on Monday, January 15 and to be completed by late February.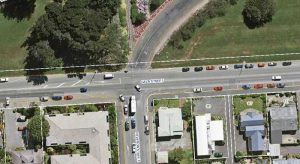 Invercargill City Council Project Manager Hayden Dennis said Council staff had been monitoring the intersection and assessed the risks associated with it.
"During peak hours there are long wait times for traffic turning right on to Gala Street or travelling straight for Queens Park Crescent or Deveron Street," Mr Dennis said.  The risk to safety at the intersection was increased by poor visibility for turning traffic, often due to parked cars on Gala Street.
While the lights were being installed there would be temporary road closures, turning restrictions, 30km/h speed limits, reduced parking, and footpath closures, Mr Dennis said.