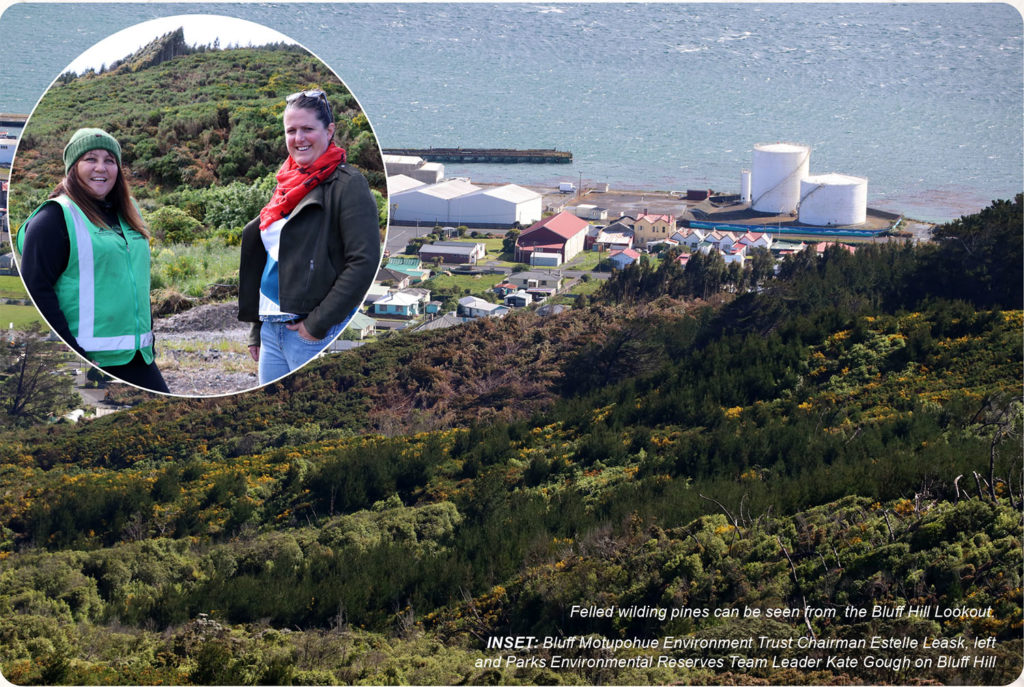 Council has begun felling wilding pines on Motupohue (Bluff Hill), in an effort to remove the pest plant and reintroduce native bush.
Parks Environmental Reserves Team Leader Kate Gough said the first step was to remove the wilding pine trees, which starve native vegetation of sunlight making it impossible for our native trees to grow.
"Motupohue is an amazing space, and with community support we are working towards the long-term goal of returning the hill to native bush," Mrs Gough said.
Bluff Motupohue Environment Trust Chairman Estelle Leask said wilding pines had been a major concern for the trust.
"The good work ICC is doing to remove the wilding pines will enable the native vegetation to recover as it has in other areas on the hill where pines had been felled.
"This will allow native vegetation to once again cloak the hill, restoring the mauri (life force) of our sacred topuni (sacred site)," she said.
Mrs Gough said the Parks and Reserves team was implementing a long-term environmental planting plan, which will involve several native plant regeneration methods.
The gorse will remain on the hill, providing shelter while the native plants grow.
"Once established, these native plants will in turn starve the gorse of sunlight, causing it to wither in perish."
Mrs Leask said the efforts to remove wilding pines, alongside plans to increase native plantings on the hill, will greatly support the trust's work.
"The trust has been working hard for the past ten years removing pest mammals from the hill, the return of the bird song has been nothing short of miraculous," she said.
In 2017, the trust translocated South Island Robin to the hill, and are now working with Council to restore the native forest on Reserve land to provide further safe habitats and enhance the adjacent Department of Conservation Scenic Reserve, which will enable reintroduction of more iconic bird species to Motupohue.