Local community organisations will have access to more prize money when entries for the Trustpower Community Awards open on Monday, 5 March 2018.
The awards, which recognise and reward the efforts of volunteers, first took place 25 years ago. Trustpower Community and Communications Advisor, Alice Boyd, says reaching this milestone has inspired Trustpower to adopt a fresh approach, with more prize money on offer as a result.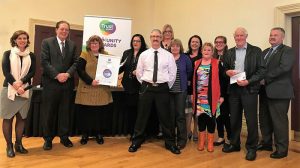 "Over the past year, we've met with Councils, attendees, past and present winners, and the wider community to find out what people value most about the Trustpower Community Awards, and what they think we can do better," she said."While it's clear that locals love the chance to celebrate the efforts of volunteers in their community, it's no surprise that for many community organisations finances are a constant concern. That's why we've increased the prize money available to Trustpower Community Awards recipients.
"This year, the prizemoney for a Trustpower Community Award will double to $1,000. Regional Supreme Winners will receive $2,000 (up from $1,500 last  year) and a trip for two to the 2018 Trustpower National Community Awards.
"Invercargill and the wider Southland region have some incredibly passionate and successful community organisations. This includes previous National Supreme Winners, Koha Kai, who continue to make their mark with the wonderful work they do. This year, we're excited to have South Alive representing Invercargill Southland at the Trustpower National Community Awards. We know that increasing prize money will help groups like these bring real change to their communities."
Miss Boyd said the presentation of the awards for Invercargill Southland would take place in Invercargill in October.
The awards are open to all community organisations with a voluntary component. Award recipients are recognised for services to the community in areas including, but not limited to: Heritage and Environment; Health and Wellbeing; Arts and Culture; Sport and Leisure; Education and Child/Youth Development. Anyone can enter a group; groups can even enter themselves.
Related link:
Enter online at the Trustpower website . Note that entries close on Thursday, 31 May 2018.