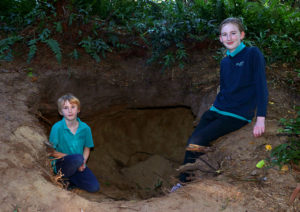 Invercargill City Council staff are echoing the calls of two young Otatara residents: stop damaging our reserves.
Council parks rangers have been called up to repair a vandalised section of the Otatara Scenic Reserve Track after a pair of siblings shared their outrage.
It is the latest incident in what has become an ongoing problem, and appears to have escalated during the COVID-19 lockdown.
Ten-year-old Sadhbh, a regular user of the track, was shocked when her teacher showed the damage to her class, and felt motivated by her passion for the environment to bring it to the attention of her mother.
"It made me upset because I have a strong tie to the environment and when I see people damaging it, it makes me feel disgusted and I wanted to stop them," she said.
Sadhbh's eight-year-old brother, Tom, was also unimpressed and outspoken on the subject going as far as calling the vandals "noobs," a term usually reserved for describing an irritating or inexperienced person on the internet.
Damage to the reserve included dirt humps in the middle of the walking track that appear to have been used as bike ramps, cut down trees and large holes.
Team Leader – Parks Environmental Reserves Kate Gough said her team of rangers had been called out to the Otatara Reserve on previous occasions to fill holes and repair damage.
She thought part of the damage was due to teenagers making their own mountain bike track.
"Perhaps these teenagers don't realise they are causing damage and breaking the law," Ms Gough said.
The area surrounding Dunns Road leading to Oreti Beach is known for its diverse range of outdoor activities including a dedicated mountain bike track on Sandy Point.
"Scenic Reserves are predominantly for walking and to create recreation experiences for people while having minimal conflict with nature, preserving the natural ecology of the area for future generations," Ms Gough said.
"We are very grateful to Sadhbh and Tom, and their mum, for letting us know about the damage at the Otatara Scenic Reserve, and we encourage everyone to let us know if they come across vandalism like this in future."