Velvetleaf inspections in Southland will continue until Friday (29 April 2016) when more than 4,000 hectares of fodder beet crops will have been checked.
Environment Southland chief executive Rob Phillips says the response has been an enormous undertaking, achieved only through the joint effort of many organisations.
"The success of this operation has seen everybody working together to achieve the best outcome for Southland," he said. "The Ministry for Primary Industries (MPI) has led the response at a national level and supported Environment Southland to get the work completed.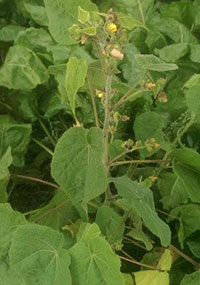 "A significant portion of the country's fodder beet crops are planted here in Southland, making the job much bigger and more challenging than elsewhere. It means we've required more support and resourcing, and MPI has been supportive of that."
Staff from Environment Southland and the Ministry were joined by staff from other local councils, South Roads, Fulton Hogan, Fonterra, AsureQuality and SIT students during the five-week response.
Nearly 200 velvetleaf plants were found (each plant is capable of dropping up to 17,000 seeds which could devastate future crops).
After the initial inspections farmers will be urged to continue to check for velvetleaf, as it is possible any  hidden plants will become obvious as they put on a last spurt of growth before winter.