The $11.5 million upgrade of the Branxholme Water Treatment Plant is due to be finished by mid-April, and will provide Invercargill and Bluff residents with cleaner drinking water, free of the summer-time muddy taste.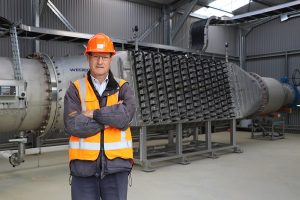 Council Water Manager Alister Murray said the upgrade was only a couple of weeks behind schedule and, once complete, would get rid of the earthy taste and smell that many people were currently experiencing.
"Council applies treatment to address taste and odour in its water supply which now occurs every summer.
"Treatment, in the form of the addition of powdered activated carbon (PAC), has been in action since late December 2016, and it's not a health issue – the water is safe to drink.
"The increase bad taste and smell has been associated with the switch over to a new batch of PAC which seems to be less effective than the earlier batch. It was further exacerbated by an equipment malfunction in the early hours of Wednesday morning.
"The PAC dose has since been increased and equipment repaired, and the level of earthy taste leaving Branxholme has now decreased. The upgrade includes a new, more effective form of treatment than PAC using ultra-violet light with enhanced oxidation.
"If consumers want to further reduce the level of earthy taste they can refrigerate drinking water rather than boiling it as boiling will increase the earthy smell," Mr Murray said.