South Invercargill's giant whale sculpture is beingt prepared for the official launch ceremony on Friday, 21 August. The project was made possible thanks to a donation of $100,00 from retired Invercargill businessman Cliff Broad for a significant piece of public art.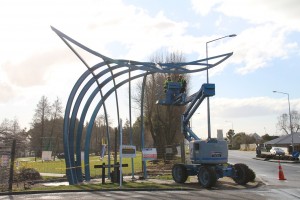 South Alive organised a nation-wide sculpture competition which was won by internationally recognised designer David Trubridge.
Here's how the artist describes his 7 metres tall by 10 metres wide creation: "A rich connection to the land and sea and flourishing coexistence of cultures. The geometric patterning of nature provides the blueprint for strength and growth and the tail flick of a great whale propels a forward momentum."
The April South Alive newsletter says the August 21 opening function will be a great occasion that "deserves some serious ceremony and celebration". A procession will start from the South Alive Community Park at the back of the South City Mall at 5.30pm and make its way along Ness Street and Dalrymple Street to the sculpture on the corner of Elles Road.
South Alive newsletters are archived on this ICC website page. Check the April and June/July newsletters  for other images.