Chief Executive Clare Hadley is responsible for implementing policies set by the Mayor and the Council, and for the overall management of the city's resources.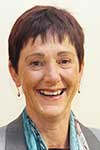 The position involves leading and managing staff and operations, providing advice and direction, ensuring effective and efficient management, and the maintenance of systems. She is also responsible for employing staff, and negotiating terms of employment.
Members of the Executive Team report directly to the Chief Executive and meet regularly for updates and to discuss policy and day-to-day operations.
To arrange an appointment with Mrs Hadley, contact her office by phone (03) 211 1672 or email her Personal Assistant: michelle.sievwright@icc.govt.nz
Executive Team
From left: Dean Johnston, Pamela Gare, Cameron McIntosh and Rachel Reece
The Council and its staff work within areas known as directorates. The directorates each have a committee that includes Councillors and Council staff who meet regularly to discuss issues and policies.
The Executive Team includes Dean Johnston (Director of Finance and Corporate Services), Pamela Gare (Director of Environmental and Planning Services), Cameron McIntosh (Director of Works and Services) and Rachel Reece (Manager of Human Resources).
Staff totals
There are 269 permanent full-time, 114 permanent part-time, 12 fixed term, 75 casual and 2 seasonal Council employees working in the four directorates:  Chief Executive, Finance and Corporate Services, Environmental and Planning Services, and Works and Services.
In summer the Council employs additional casual staff to work in areas such as Parks and Reserves, and Pools. It also employs a number of students who work in the corporate office to gain work experience and job skills. – April 2018 update