The Youth Council members include representatives of Invercargill secondary schools and acts as a voice for youth when the Invercargill City Council wants to hear views and opinions of young people. It is open to young people aged from 12 to 24 who put themselves forward for nomination.
The Youth Council, which has existed since 1998, meets fortnightly on Wednesday afternoons. Meeting procedures are formal with minutes and agendas – but the atmosphere is casual and relaxed. It elects its own chairperson at the beginning of each year. The Youth Council's goals are to:
Engage young people in Invercargill City to have a voice in decision making.
Ensure young people know the Youth Council exists for them to have a voice.
Facilitate events and projects to involve young people and make our city a better and more vibrant place to live.
The members are involved in youth-related activities and conferences in New Zealand, including Youth Week, an annual event held in May. Funding for such activities and participation is provided by the Invercargill City Council. Other responsibilities include informing the Council on certain issues, suggesting solutions to issues, sharing information and experiences with others, learning about the functions and decision-making processes of the Council and – most importantly – building new friendships and having fun!
Contact the Youth Council if you would like it to act for you on an issue or inquiry. For example, you might have job opportunities for youth, be looking for guidance and assistance with organising a youth group in your community or want to find out about sports, arts and cultural scholarships for youth. If you would like more information contact Ms Mary Napper on (03) 211 1669.
The 2018 Youth Council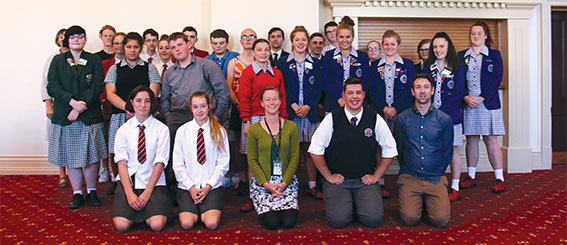 Back rows, from left: Mary Napper (ICC), Brayden Ward, Libby Flett, Hamish Muhl, Rachel Boniface, Mackenzie Fallow, Hayden Scott-Chambers, Johnathan O'Donoghue, Logan Murdoch, Keegan Langeveld, Sam Kelly-Shanks, Renae Henderson, Maryanne Sears, Shanai Hiroki
Middle row, from left: Caitlin Smith, Tiffany Wilson, Calvin Jenkins, Libby Haywood, Janaya Stevenson, Madison Flannery, Ella Richardson, Molly Haywood
Front row: Kate Johnstone, Emily Knowler, Gemma Crawford (ICC), Tane Froude, Oliver Mortensen (ICC)
Absent: Tully Paterson and Nepia Ruwhiu
How do I become a Youth Council member?
The Invercargill Youth Council is now recruiting for members for the 2018 year.  If you are aged between 12 and 24 years, are interested in engaging young people in the Council decision-making processes and wish to increase the Council's understanding of young people's perspectives and needs,  this opportunity might be for you.
You need to live, work or study in the  Invercargill City area and be available for meetings on Wednesdays from 4pm.
Youth Council – Application Form for new members
Youth Council – Terms of Reference 2019
2017 Youth Council Report
If you would like more information contact Ms Mary Napper on (03) 211 1669.
Youth-related websites
Attitude
Ministry of Youth Development
Youth Law
Youthline