In 2021 Invercargill City Council is undertaking a Representation Review. This occurs every 6 years and is required by the Local Electoral Act 2001.
We are also asking whether we should have a Māori ward.
What is a Representation Review?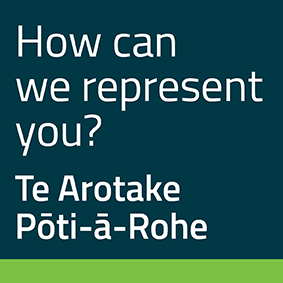 This Review looks at all aspects of how the residents of Invercargill are represented on Council. This includes Community boards.
We are asking our community:
How many Councillors should we have? We currently have 12 plus the Mayor and can have as few as 6 and as many as 30!
Should we elect the Councillors 'at large' (status quo), introduce a Ward system or have a mixture of both?
Should there be a Maori ward in Invercargill?
Should we retain the Bluff Community Board? If so how many members should it have? Are there other areas in Invercargill which should also have Community Boards?
How can we represent you?
The review is now underway!
We are seeking feedback and comment on all aspects of representation.
You can share your feedback to any level of detail you like – whether it be a quick comment, or you'd like a more detailed discussion.
These issues affect everyone who lives in our city district.
Email us at repreview@icc.govt.nz
Feedback on this part of the Representation Review closes 30 April 2021.
Your Community Panel
Invercargill City Council has appointed a Community Panel, Chaired by Councillor Rebecca Amundsen, to talk with the Community and gather views which will be used to create a formal report.
Community Panel members will be asking you how ICC can best represent you.
The Panel members are;
Councillor Rebecca Amundsen (Chair)
Anna Ford
David Pottinger
Aditi Raj
Michael Skerrett
Your Community Panel will be out and about at events, or keen to chat with anyone they interact with in their own communities about the Representation Review.
If you see them, feel free to ask about the Representation Review, and share your thoughts with them!
Want to know more?
We've got more details on Māori Wards, what a ward system might look like for Invercargill, how community boards might be defined, and what might impact the number of councillors we should have in a handy booklet, which you can check out online here.
In the meantime, if you have more questions, contact repreview@icc.govt.nz
Next Steps
There are formal and informal requirements and stages of the Representation Review process.
After the Council has considered the Community Panel's report, Council will prepare the "Initial Proposal".
The Initial Proposal reflect the feedback from the panel's report and the community.
When the Initial Proposal is adopted by Council, there will be another chance to have your say – as it will be open to submissions from the community.
There will be a formal hearing process for these submissions and from this, Council will prepare a "Final Proposal".
This is then notified to the public and it can be appealed to the Local Government Commission, which will determine the appeal in time for the 2022 Election.
In 2015 there were no appeals to the Council Final Proposal.