What is a Representation Review?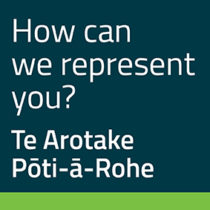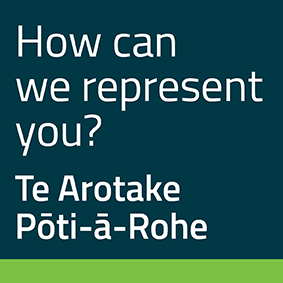 A representation review looks at all aspects of how the residents of a city are represented on Council, including Community boards. This occurs every 6 years and is required by the Local Electoral Act 2001.
Following feedback from our community and the Community Panel's report, Council has proposed to continue with its existing approach:
Council will comprise of 12 Councillors and the Mayor
All 12 Councillors will be elected 'at large' across the city
The Bluff Community Board shall be retained, with 5 elected members, one appointed Councillor and retain the existing boundaries.
Council also decided not to create a new Community Board in Otatara, however is interested in hearing if residents in Otatara would like to have one – our booklet has more information on this.
Council determined not to create a Māori ward but instead to introduce Mana Whenua roles on the Performance, Policy and Partnerships Committee and the Infrastructural Services Committee, as well and advisory role on the Bluff Community Board.
You can find a copy of the Community Panel report here: Community Panel Representation Review Report 2021.
Its members are: Councillor Rebecca Amundsen (Chair), Evelyn Cook, Anna Ford, David Pottinger, Aditi Raj and Michael Skerrett.
Want to know more about our Representation Review – Initial Proposal? We have compiled all the information regarding our initial proposal in a booklet available at our office, library and Bluff Service Centre and online here: Representation Review Initial Proposal Document
If you would like a hard copy of this document or one emailed to you to please contact us at 03 2111 777 or repreview@icc.govt.nz.
How can we represent you?
We are asking our community:
How many Councillors should we have?
We currently have 12, plus the Mayor, and can have as few as 6, and as many as 30.
Should we elect the Councillors at large (status quo), or introduce a ward system, or have a mix?
Do we retain the Bluff Community Board? If so, how many members, and/or do we have more Community Boards?
Submissions are now open!
Let us know your views! You can submit online or in writing.
Submit online here. This is via our Survey Monkey questionnaire.
Want to submit in writing? You can print and complete the proposal document to be delivered or posted to us at:
Submission Representation Review, Invercargill City Council, Private Bag 90104, Invercargill 9840
You can also send us an email at repreview@icc.govt.nz
📅 Consultation closes 17 September 2021 at 5pm.
Next Steps
Council will consider all the submissions it has received with hearings planned for 4, 5 and 6 October 2021. From this, Council will prepare a final proposal that will be for adoption 26 October 2021.
Related documents: