The Invercargill City Council – the Mayor and 12 Councillors – is chosen by the Invercargill public in elections held every three years. The Mayor is a member of the three Council standing committees – Performance, Policy and Partnerships, Infrastructural Services and Risk and Assurance.
The Council logo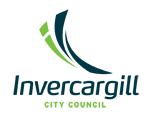 The Council introduced its current logo in February 2009. It takes its theme from the blade of grass sculpture outside the Council Administration Building in Esk Street and forms the letters ICC. Guidelines for the use of the logo have been made available to printers and the media.
The Coat of Arms
The Council's Coat of Arms was proposed in 1956 as part of Invercargill's centennial year and was first exhibited in June 1958. Today the Coat of Arms is used only as as an official seal and on special occasions.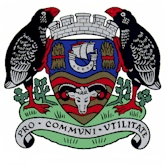 The  shield is supported by a pair of takahe, once thought to be extinct but rediscovered in Fiordland in 1948. The crown is the emblem of government. The wavy bars behind the ram's head are taken from the Arms of the House of Drummond, which is associated with Invercargill's namesake, Captain William Cargill. The foliage represents Southland beech and the motto Pro Communi Utilitate translates as "For the Benefit of the Community". The design also features a ram's head and two sheaves of wheat to represent Southland's farming traditions. The ship represents export activity.