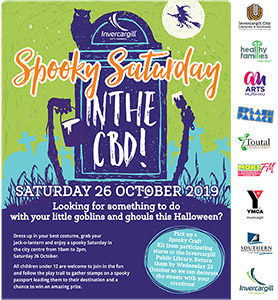 We're promising plenty of fun as businesses and community organisations join forces to bring you a family focused a Spooky Saturday in the CBD from 10am to 2pm on Saturday 26 October.
Get your face painted, play with bubbles or enjoy a fire juggling show.
All children under 12 are welcome to join in the fun and follow the play trail starting at the Invercargill Public Library.
Pick up a Spooky Craft Kit from a participating store or the Library and return them by Wednesday 23 October so we can decorate the streets with your creations!
There will be heaps of awesome prizes on offer throughout the event!
Food truck operators are also invited to set up at Wachner Place for this very special event.
If you'd like to join in the fun, fill out this application form.
Download the colouring competitions here:
Monster | Vampire | Werewolf | Witch