The Invercargill City Council tonight unveiled a branding package to reinvigorate the central city by boosting business and consumer interest – and by providing a platform from which to promote Invercargill as a regional destination.
A website – invercargillnz.com – was launched to highlight the story of the branding exercise, brand heroes and details of brand-related merchandise. It's a brand to delight visitors and inspire locals with the belief that Invercargill is a place where their aspirations are achievable. Don't miss the brand launch video.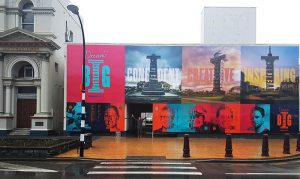 The Council's City Centre Co-ordinator, Kari Graber, said more than 300 local businesses were involved in providing direction for the brand, and themes of attraction, pride, and confidence were key elements discussed and agreed upon.
"Those elements formed the pillars for the brand, which is representative of these aspirations," Ms Graber said. "It's a seismic shift from the vulnerability of being without a brand – and from suggestions such as Invergiggle, which were not appropriate."
UPDATE: Under the headline "Rebranding the deep South: How Invercargill, the city with no brand, finally found its identity", Idealog magazine talks to the people behind the successful rebranding.
ABOVE: Examples of how the branding could be used (click for larger images).