These latest pictures show how the hydroslides will look against the recently completed upgrades at Splash Palace and also confirms the colours for the slides.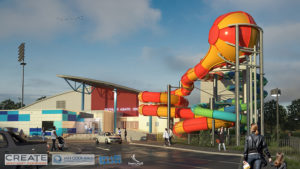 Splash Palace Manager Pete Thompson said staff were excited to show the look of the new hydroslides to everyone."They're generating a huge amount of attention and anticipation and it's really great to be able to show the size and dimension of the slides relative to everything else".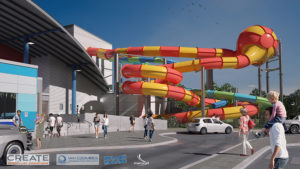 The three new slides are a massive upgrade from the existing 30m slide which was built sometime in the '70s and moved to Splash Palace from Queens Park.
It's an addition that Pete for one is looking forward to. "It's not often you get to be involved in a project that is essentially all about fun; the hardest thing at the moment is trying to decide who gets to go first!"
The biggest new slide, at 102m long, requires the use of single or double inflatable rafts and includes a journey around the inside of a large sphere. The second and third slides are 71m and 76m long respectively.
"There's one or two other surprises in store for users" says Pete with a laugh. Pete wouldn't elaborate any more on this except to say slide designers are doing some quite "cool things with colours and light, people will have to wait and see".