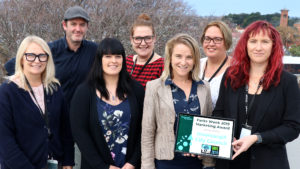 The Invercargill City Council's stellar marketing campaign for Discover our Parks has won a national award.
Recreation Aotearoa presented Council staff with the award for marketing and media at a ceremony in Auckland last week.
In March, Council's Parks and Recreation team organised a week of events to celebrate Parks Week 2019, titled Discover our Parks.
The events were held at a different location each day, intended to showcase the wide range of fantastic green spaces available in the city, and the way they could be used.
The events were also an opportunity for the community to meet and engage with Council's Parks Rangers.
Recreation Aotearoa Parks and Open Spaces Programme Manager Karl Nesbitt said the award winner was selected from the 26 councils which registered their events for Parks Week 2019.
"This award is presented to the Council which promotes
the value of its parks through Parks Week using social media and videos and connects with its community," Mr Nesbitt said.
"We at Recreation Aotearoa felt that the marketing and inclusive way Council staff and the community was brought together to promote their parks this year stood out.
"Invercargill City Council is a deserved winner for a 2019 Parks Week Award, and one of five New Zealand Parks Award recipients for the year."
Council Interim Parks Manager Michele Frey said the award was a huge achievement, with Invercargill having some great competition from some big councils.
"Our Rangers, who were the stars of our Discover our Parks events, did an amazing job each day sharing our parks with our people and engaging with them", Ms Frey said.
"I know they're excited about planning future events already."
"We also want to thank the community groups and organisations, especially Sport Southland and Healthy Families, which really worked hard to help make Discover our Parks a success," Ms Frey said.
"This was the first time the Invercargill City Council Parks and Recreation team have put on such a large-scale series of events, so it's fantastic to see not only the community enjoying our parks, but to be recognised for this work at a national level."
Parks Week is an annual international campaign. In New Zealand, it ist run annually by Recreation Aotearoa, a charitable organisation which works to enable its members to provide quality recreation experiences, places and facilities throughout the country.
Visit the Discover our Parks page