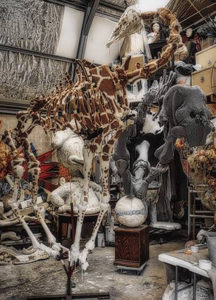 A change is as good as a holiday and that's just what Invercargill is getting when new exhibitions are unveiled at He Waka Tuia Art + Museum on Kelvin St.
Two new sets of work from Michele Beevors and Tom Fox will be gracing the space just in time for Christmas.
Michele Beevors, whose previous work Anatomy Lessons was shown at the Invercargill Public Art Gallery's Don St space in 2018, presents TRADED: Anatomy Lessons, NEW KNITTED WORKS, while Tom Fox presents Altered Neuro States.
Co-manager Sarah Brown is thrilled to be introducing fresh work into the space.
"We were super excited when the opportunity to hold these shows presented itself, and we knew we needed to be light on our feet and make it happen. It's great to have something fresh and new for the community to experience over the summer."
He Waka Tuia will be open to the public while the shows are packed up and the new exhibitions installed.
Ngā Taonga O Murihiku and Te Manu Tītī, Te Manawa o Te Tangata will remain as independent smaller exhibitions.
The new shows will be celebrated with a floor talk with both artists at 12 and 12.30pm at He Waka Tuia on Tuesday, December 22.
"We were really keen to push the boundaries of the space and see how it would operate holding a number of diverse, smaller shows side by side," Brown says.
Co-manager David Dudfield is looking forward to even more new and exciting works and taonga to share with visitors.
"After such an unprecedented year the team are excited to share a little extra Christmas cheer with our community. Stay tuned for even more exciting exhibition experiences coming your way in 2021."
While He Waka Tuia will be open for most of the summer, there will be reduced hours over the Christmas period.
The space closes on Christmas Eve at 12pm, reopening from 12pm-4pm between December 29-31 and then closing again until Tuesday, January 5, when normal hours will resume.
Visit He Waka Tuia for more information.