It's that time of year again! Bring out your little ghouls and goblins for some trick-or-treating fun in the City Centre. The year's event will take place on Saturday, October 28 from 1pm to 3pm – thanks to city centre retailers and businesses.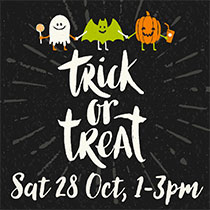 City Centre shops taking part in this month's Trick or Treat event will display one (or more) of these posters. Print them out – they fit neatly on one page.
The event is for primary school children and younger. Children must be dressed up and be accompanied by an adult.
Thanks to a generous donation from The Warehouse this year there should be enough candy for everyone. There are also alternatives to candy so nobody should miss out on a treat.
This year's event will also feature a fire juggler at the Esk St Pocket Park, and The Invercargill Public Library will be hosting a spooky photo booth on the day from noon to 3pm. Check the photos on the library's Facebook page from Monday, 30 October.