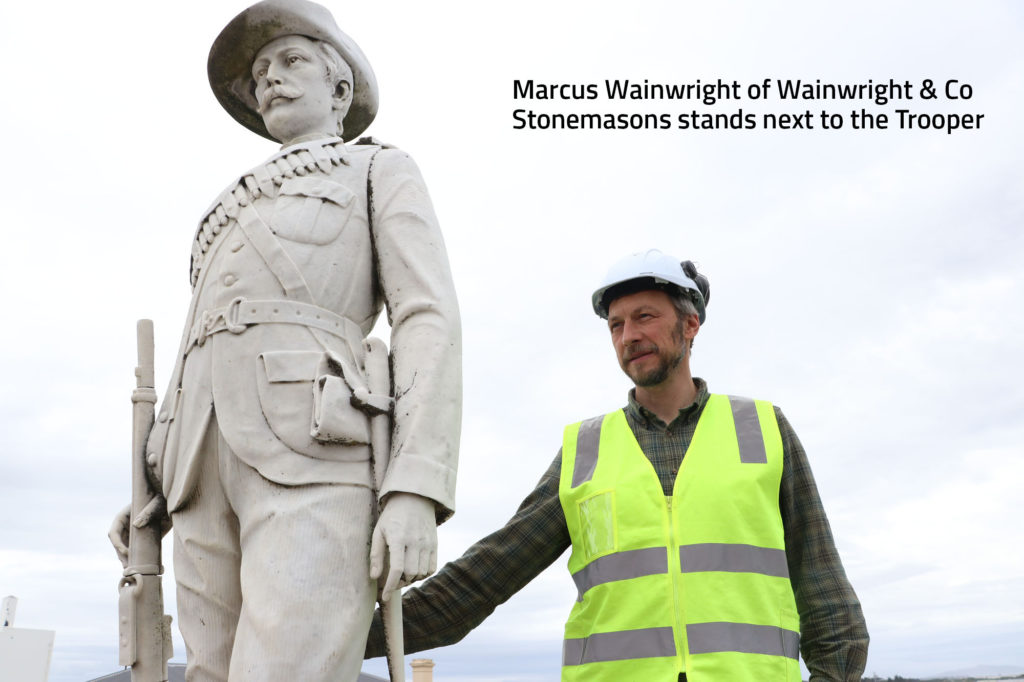 Troopers' memorial is currently surrounded by scaffolding and white plastic as restoration work is carried out. Communications Advisor – Digital Media Daniel Tobin was invited to scale the scaffolding and see the work up close.
STANDING next to the soldier on top of Troopers' memorial is one of the highlights of my year.
At the top I met Marcus Wainwright of Dunedin-based Wainwright & Co Stonemasons who is chipping away at stone surrounding rusted metal.
Marcus has been restoring monuments around Otago since 2006 as well as regular ongoing building strengthening and structural work.
Starting his career as a headstone maker, he is now in demand for the more unusual and tricky jobs like his recent work on a large West Coast coal mining chimney.
Standing eye to eye with the Trooper I was impressed with the detail the sculptor put into the figure, details that cannot been seen from the street, like stirrups on his boots and veins lining his hands.
The main issue Marcus needs to contend with on Troopers' is corrosion of the inner stee
"I try to get to as much rust as I can, find a product to repair it, then cover."
One thing he has noticed about memorials is often they started life as a central point of a community but over time the community changes, wooden houses rot away but the stone still stands.
"You sometimes forget it's a memorial to people who died overseas, that it is their only headstone, built by families whose children never returned," he said.
As I was taking photos Marcus suggested I take one over the Troopers' shoulder showing his view.
"The Troopers' memorial is interesting, you always see it in pictures of Invercargill, it becomes a symbol of the town.
"So much is changing in Invercargill, but this doesn't change. When you look at the view over his shoulder you get a feeling of all the years the soldier has been looking down on."
Invercargill City Council has received $688,000 from Provincial Growth Fund for the restoration of seven memorials
Wrapping removed due to high winds
Due to high winds on Saturday 21 November the the wrapping was removed to prevent any material from being a hazard to traffic.
The memorial will be re-wrapped by early next week.
Repair work on Troopers' Memorial is expected to finish in late February.