Work on Bluff's newest thrill-seeking attraction has begun with a blessing to mark the occasion.
The Bluff Hill Motupōhue Active Recreation Precinct will consist of more than 10km of mountain bike and walking tracks of varying expertise levels across Bluff Hill Motupōhue.
There will be new tracks constructed as well as upgrades to the existing ones.
On Monday, Awarua Rūnaka performed karakia and a blessing at the site of the soon-to-be-established car park on Pearce St at the base of the hill.
Council Manager Parks and Recreation Caroline Rain said after months of planning, it was great to see the project get under way.
"We've been working on the plans for the Recreation Precinct for a while and now is what we've been waiting for, the moment we can get shovels in the ground.
"This project is a key component for Great South's Bluff Tourism Master Plan, and when it is complete it will be a drawcard for cycling tourism in Southland."
The all-inclusive precinct would have something for everyone, Rain said.
"There will be multi-use trails so all different types of users and different abilities can walk, bike, or push a pram here. The easy graded tracks can also be used by people with disabilities, and we have car parks and accessible paths for everyone to use."
Wānaka-based mountain bike trail construction company Dirt Dynamics came on board earlier in the year to design and build the trails, along with the car park, toilet installation, and bike wash down area. The precinct is expected to be finished by July 2024.
The project has received a funding boost of $981,380 from the Ministry of Business, Innovation and Employment to go alongside $547,000 from the Long-term Plan.
"We are so grateful for the support from mana whenua partners, and key stakeholders Bluff Hill Motupōhue Environment Trust and the Department of Conservation, who we have worked closely with since the inception of this project. We know how important Motupōhue is to them and the Bluff community, and I can't wait to see it transformed into an active hub for all to enjoy."
Contractors will begin construction at the top of the hill and will work their way down with the intention of the precinct being open in July 2024.
For more information about this project, go to Bluff Hill Motupōhue Active Recreation Project Page | Let's talk Invercargill (icc.govt.nz).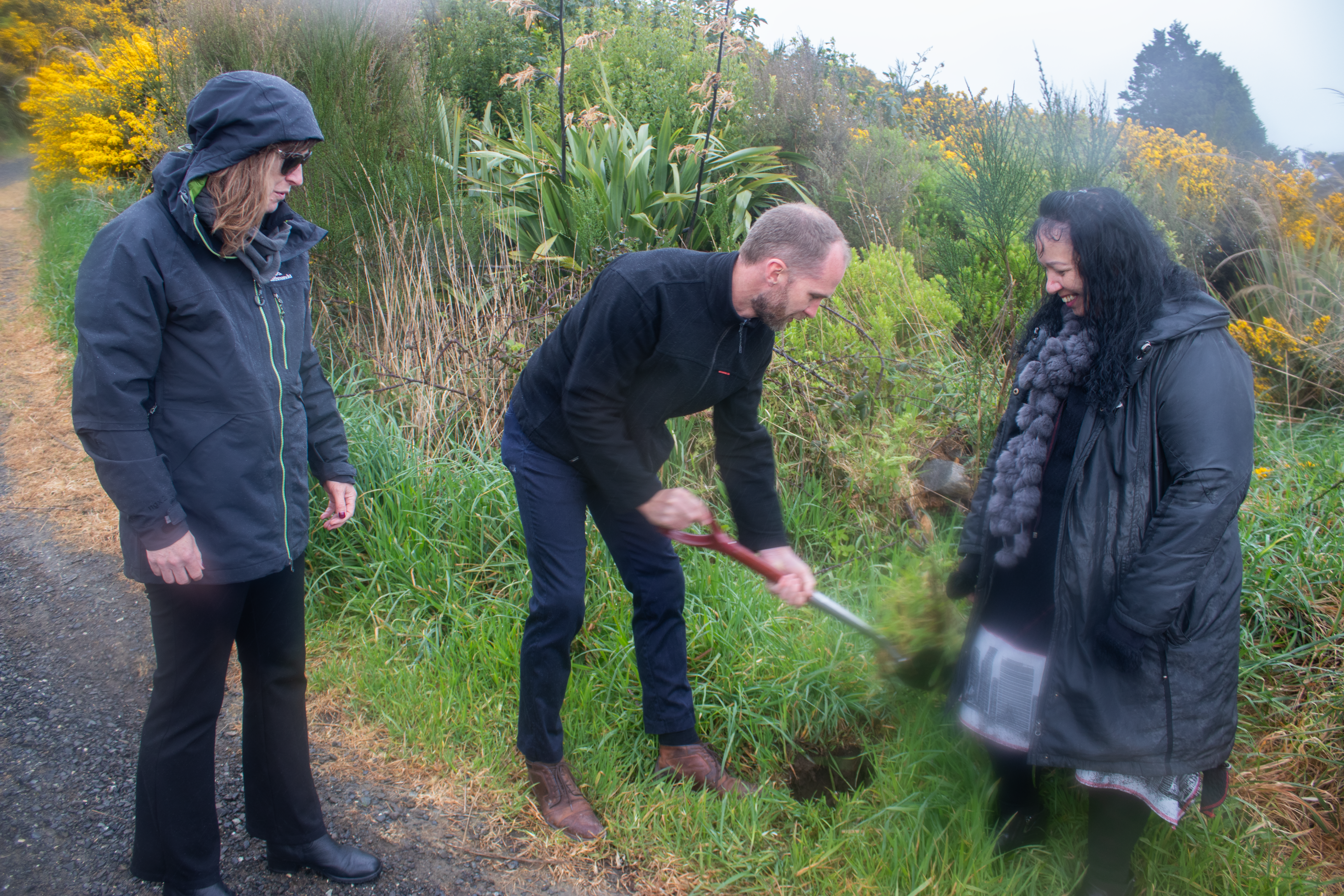 Invercargill City Council Manager Parks and Recreation Caroline Rain, Southland Mountain Bike Club President Marcus Roy, and Council mana whenua representative Pania Coote, of Te Runanga o Awarua.