Anzac Day services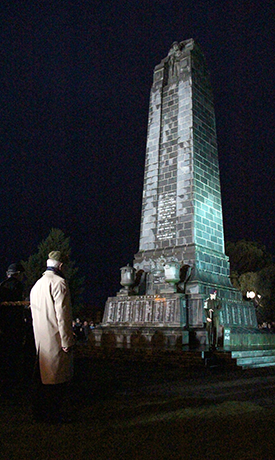 Invercargill
Invercargill Dawn Service: Cenotaph, Dee Street, 7am on Monday, 25 April 2016, then civic service at the Invercargill Workingmen's Club, Esk Street, starting at 7.45am
Girl Guides Memorial Service: Eastern Cemetery, Invercargill, 9.30am
2nd NZEF club rooms, Don Street, Invercargill, starting at 10am. Guest speaker: Sarah Dowie MP. All welcome to attend.
Bluff

Bluff Memorial Grove, Flagstaff Road. Gather at gateway; parade marches to the Grove flagpole. Refreshments at the RSA after the service.
Council hours
 Buses
Saturday, 23 April: Normal service
Anzac Day, Monday, 25 April: No BusSmart services
Tuesday, 26 April: Normal bus service resumes.
Council offices
Council offices at 101 Esk Street and the Bluff Service Centre will be closed on Anzac Day (the Bluff office will be open as normal for Lotto and NZ Post on Saturday, 23 April).
Invercargill Public Library
Anzac Day, Monday, 25 April: Library closed
Parks
Anzac Day, Monday, 25 April: Queens Park Office closed; no cemetery services. Queens Park and other parks and reserves open as normal.
Recycling and rubbish
Anzac Day, Monday, 25 April: No Council recycling and rubbish collections . Collections will be one day later than normal, eg Monday collections will take place on Tuesday, Tuesday collections will take place on Wednesday, and so on with Friday collections taking place on Saturday. Normal collections will resume on Monday, 2 May.
The Invercargill Transfer Station will be closed on Monday, 25 April until 1pm; the Bluff Transfer Station will be closed all day.
Visit this WasteNet website page for more information
Splash Palace
Anzac Day, Monday, 25 April: Pool open 11am to 4pm