A community event at Wachner Place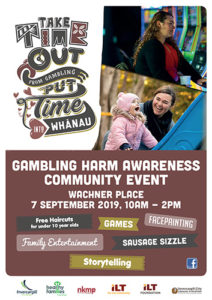 this weekend promises plenty of family fun, in the name of raising awareness of gambling harm.
Nga Kete Matauranga Pounamu Charitable Trust, the ILT Foundation, and Invercargill City Council have joined forces to offer the Gambling Harm Awareness event to encourage families to take time out from gambling and put time into whanau.
Council City Centre Co-ordinator Shru Shrivastava said there were plenty of activities planned, including storytelling, facepainting, free haircuts, arts and crafts, the Healthy Families play pods, and family entertainment.
"We're very grateful to Healthy Families and the Invercargill Public Library for their help with the activities," Shru said.
"We hope to share with Invercargill an event for families to come out on the day and spend time with their kids and grandkids and create beautiful memories."
Nga Kete Health Promoter Eru Loach said the event was important because it would provide a space where whanau could spend time together and participate in some fun activities.
"Quality time is one of the best gifts tamariki and mokopuna can receive."
ILT Foundation manager Lisa-Maree Fleck said the foundation was committed to providing safe, enjoyable gaming venues and minimising gambling harm.
The Gambling Harm Awareness event will be at Wachner Place on Saturday, September 7, from 10am-2pm.