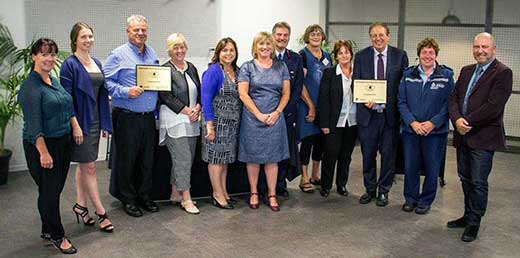 Invercargill City and the Southland District were designated as International Safe Communities on 11 February 2016.
The ceremony was held at Bill Richardson Transport World. Pictured above – from left – are Miriam Erikson (Chamber of Commerce), Saniya Yusipova (Safe Communities Co-ordinator), Southland District Mayor Gary Tong, Lynley Irvine (General Manager, Surgical Directorate, Southern DHB), Tania Peters (Safe Communities Foundation NZ), Nic Miller (ACC), Neil Ladbrook (NZ Fire Service), Mary Napper (ICC), Raewyn Hubbard (MSD – Child, Youth and Family), Invercargill Mayor Tim Shadbolt, Senior Sergeant Cynthia Fairley (NZ Police) and Invercargill Deputy Mayor Darren Ludlow
Representatives from Safe Communities Foundation New Zealand made the presentation to members of the Safe in the South Governance Group (which includes the Invercargill City and Southland District Councils and the Police, Fire Service and ACC).
"This will make us the 29th Safe Community in New Zealand," said City Council Community Development Manager Mary Napper. "It means that our local community services work together and take a collaborative approach to make the community safe."
Chair of the Safe in the South Governance Group and Southland District Council Mayor, Gary Tong, said: "The Safe in the South project will bring many networks together and create safe and informed communities."
Invercargill Deputy Mayor Darren Ludlow said a safe community was at the heart of what everybody wanted where they lived and worked The number of organisations that had stepped forward was "tremendously encouraging".