Work is underway to renew major stormwater and foul sewer mains on both sides of Tay Street between the Nith/Kelvin Street intersection and Queens Drive.
The decision was made to replace the 140 year old stormwater mains and 90 year old foul sewer mains at the same time as one large project, rather than having to dig up the road twice.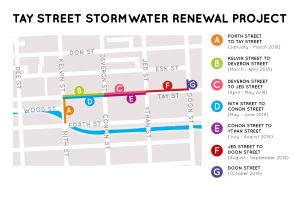 The project will be completed in seven parts to minimise the impact on inner city businesses.
Each letter in the map represents one city block on either the north or south side of Tay Street and one section in Nith Street. Within each stage the contractor will progressively work along the street, heading east, installing the new foul sewer and stormwater drains. The works are designed so that no more than half a city block is being worked on at any one time. Each section will be completed before progressing to the next. Tay Street will be restricted to a single lane of traffic around the active work site. Footpaths will remain open at all times. Each section will take approximately six weeks to complete with the project expected to be completed in October 2018.
NOTE: See the Invercargill Word On The Street Facebook page for information about work in the city.
Background
This work involves replacing existing brick stormwater mains that were originally installed about 1877. The new reinforced concrete pipe is designed to last in excess of 100 years. The original brick barrel pipe is being left in the ground and will be filled with a low-strength concrete to ensure it does not collapse. Council will also replace the foul sewer pipes at the same time to reduce replacement costs on installation. The original foul sewer was installed in 1928 and was one of the first sewer mains to be installed in the city.
Council has engaged Seipp Construction to complete the project works. Seipp Construction is a local contractor employing local people with their head office based in Christchurch. The company has several years of experience working on inner city drainage projects as part of the Christchurch City Rebuild.