At the end of February 2018 there were 9,431 registered dogs in the Invercargill District. Enjoy your dog – but be aware of the rights of other people.
Online payments
You can re-register  your dog, register new dogs and pay dog impoundment fees online. Visit this page: Online payments
Dog-related resources and information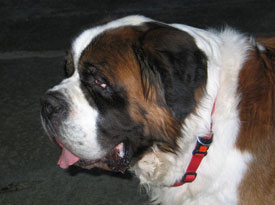 Dog Owner Manual This booklet includes the Responsible Dog Owner application form and information about Responsible Dog Owners Status, dog ownership, registration, dog control, microchipping, menacing and dangerous dogs, restricted breeds, barking dogs, exercise, prohibited areas (no dogs allowed), controlled areas (where dogs must be on a lead), controlled areas (where dogs can be exercised off the lead),  maps, parks where dogs can be exercised off the lead, and how to avoid being the victim of a dog attack.
NOTE: Dogs with a known infectious disease are not allowed in public places. This is a serious offence and is in breach of the Dog Control Act.
Other resources:
Responsible Owner Application Form
Walking your dog in Invercargill  – brochure
Animal Services fees
Dog Control Annual Report 2014-2015
Dog Control Annual Report 2015-2016
Dog Control Annual Report 2016-2017

Dog licences and  the Responsible Owner policy
See the Dog Owner Manual for information about Dog Licences and the Responsible Owner policy and how to apply for Responsible Owner status (Responsible Owners pay a reduced registration fee).
Microchipping
Microchipping is a simple procedure in which a microchip about the size of a grain of rice is inserted into the dog's scruff. Under the Dog Control Act 1996, all dogs registered for the first time on or after July 1, 2006 and all dogs classified on or after December 1, 2003, must be microchipped. A microchip contains a number that belongs only to your dog, enabling secure and reliable life-long identification. If a microchipped dog gets lost and picked up by a dog control officer, or injured and taken to a vet, the microchip can be scanned and Council can then check its number on the national dog database to enable a quick reunion with its owner. The Animal Services team – (03) 211 1777 – can assist with this, or contact your local vet.
Dog pound and fees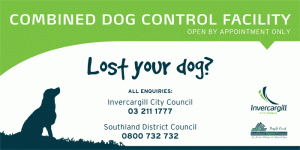 If your dog has been impounded, please contact Animal Services on (03) 211 1777  to arrange a time to have your dog released to you. Releasing of dogs is by appointment only. There is a fee involved in releasing your dog (see above for a link to the latest dog-related fees). Note that if your dog is unregistered then, by law, it has to be registered before it can be released to you.
No-go areas
Dogs are not allowed in certain areas. These include the Invercargill Central Business District and inner city, defined as the area contained within and including Tay, Deveron, Yarrow and Dee Streets. Dogs are also not allowed at events organised by the Council, unless otherwise stated. Prohibition in "no dog areas" does not apply to guide dogs for the blind, hearing ear dogs, police dogs, dogs being used by security guards or dogs confined in an efficient container or securely confined in a vehicle.
Dogs in parks and reserves: scooping the poop
When a dog fouls in public the person controlling the dog is responsible for the immediate removal of the faeces. Dog owners are advised to keep a plastic bag handy; free "Scoop the Poop bags" are available from the Queens Park Office during office hours.