Page last updated 9 June 2023 9.09am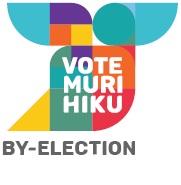 Key dates
11 MAY

Nominations open

8 JUNE

Nominations close

13 JULY

Voting opens

4 AUGUST

Election Day
Candidates
David John Hicks
Contact: wildbritain@gmail.com, 022 6989 789
Nominated by: Kate French, Matthew Couldrey
Carl Edward Heenan
Contact: 021 031 7806
Nominated by: Kenneth Gollan, Jayne Leask
Graham Lewis
Contact: mahrag@southnet.co.nz, 021 676647
Nominated by: Colin Jenkins, Gillian Watson
Andrea Murrell
Contact: murrellandrea@gmail.com, 2885008539
Nominated by: Allan Arnold, Richard Murrell
Lisa Tou-McNaughton
Contact: lisatoumcnaughton@gmail.com, 021 055 66 74
Nominated by: Thomas Campbell, Christine Cole
David Pottinger
Contact: pottingerbuist@gmail.com, 027 44 77567
Nominated by: Josephine Buist, Michael Conway
David Meades
Contact: 2040687176
Nominated by: Annabel Small, Christopher Romero
Sebastien Fabre
Contact: sebastien.m.fabre@gmail.com, 220499715
Nominated by: Amber McMurdo, Karley Henderson-Te Tai
Ian Reeves
Contact: reevesee@kinect.co.nz, 272070106
Nominated by: Timothy Ward, Jonathan Tucker
Terry King
Contact: terrenico@xtra.co.nz
Nominated by: Kaye Crowther, Marlyen Davis
Rob Te Maiharoa
Contact: robyn.temaiharoa@sit.ac.nz, 027 2282484
Nominated by: Jodi Conway, Jessica Smith
Steve Broad
Contact: Stevejbroad@gmail.com
Nominated by: Nicholas Jeffrey, Michael Broad
Tom Morton
Contact: MORTONThomasDavid@gmail.com
Nominated by: Peter Shanks, Timothy Shanks
Asha Dutt
Contact:
Nominated by: Wayne Harpur, Emily Burke-Pearce
By-election signs
For information and where you can place a sign / hoarding and the rules around them please refer to the Elections Signs page.
Candidate information
We have prepared a Candidate Handbook and briefing document that updates the handbook for this Council term for all candidates that provides essential information on what being elected means and important information about the campaign process.
Download a copy below, or contact Michael Morris (Michael.Morris@icc.govt.nz) for a hard copy to be posted to you.
Election protocols
With the By-election Council has issued a Staff Protocol to help guide staff during the By-election period.
Ratepayers electors enrolments
Do you own property in another Council district? If so you might be eligible to become a Ratepayer Elector. Click here to learn more.
Are you ready to Vote?
The Electoral Commission looks after enrolments for voting. If you are uncertain if you are enrolled, have recently turned 18, become a Resident or moved you may want to check if you are enrolled!
You can also ring the Electoral Commission, anytime, on 0800 36 76 56
Or you can contact us and we can post out a form for you to fill in and return to the Electoral Commission- it is even free postage.
Voting system for this by-election
Council has resolved at the Performance, Policy and Partnership Committee meeting on 11 August 2020 to retain First Past the Post (FPP) as its electoral system for the 2022 triennial elections and any By-elections.
We will be consulting on the system for 2025 shortly – follow this link to find out more information.
Electoral Officer contact details
The Electoral Officer is responsible for the conduct of the election.
Anthony Morton
Electoral Officer
Phone: 0800 666 048
Email: iro@electionz.com
Michael Morris
Deputy Electoral Officer
Phone: 03 211 8396
Email: michael.morris@icc.govt.nz