Term 2 Dates

Day
First lesson
Last lesson
No. of lessons
Mondays
1 May 2021
5 July 2021
9 lessons
No lessons on 7 June (Queen's Birthday)
Tuesdays
4 May 2021
6 July 2021
10 lessons
Wednesdays
5 May 2021
7 July 2021
10 lessons
Thursdays
6 May 2021
8 July 2021
10 lessons
Fridays
No lessons
Saturdays
8 May 2021
10 July 2021
10 lessons
Sundays
Block One
9 May 2021
30 May 2021
4 lessons
Block Two
13 June 2021
11 July 2021
5 lessons
---
Take the Swim School Customer Survey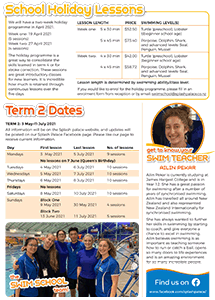 Please contact swim school via email swimschool@splashpalace.co.nz or phone call 03 217 7506 if you would like any further information.
The Splash Palace Swim School provides quality and affordable swimming lessons at the Splash Palace and Bluff pools. The Swim School focuses on providing confidence for children in and around water and to advance their abilities to a level where they can participate in aquatic sports and other recreational activities.
"In the water teaching" for babies to beginners is part of the unique programme offered by the school's qualified, professional and dedicated swim teachers. Small class sizes ensure individual tuition. Achievement certificates are awarded at the end of each course.
---
Teachers
Swim School has 14 trained teachers. They all hold or are working towards their Aust Swim STA award, and three teachers have a Diploma in Swim Teaching. Each teacher has a current first aid certificate and Pool Lifeguard award. Splash Palace is also a Quality Swim School, a standard set by Swimming New Zealand.
---
Classes and prices for 2021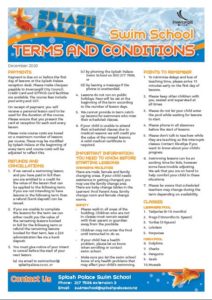 All prices include GST and pool entry.
School-term classes
Baby classes: Tadpoles and Frogs 8 x 30-minute lessons $79.20
Pre-school classes: Turtles 10 x 30-minute lessons $92.00
School-age classes: Lobsters, Porpoises, Dolphins and Sharks: 10 x 30-minute lessons $110.00
Penguins: 10 x3 0-minute lessons $110.00
Seals: 10 x 45-minute lessons $115.20
Mussels: 10 x 60-minutes lessons $120.30
Adult classes: 8 x 30-minute lessons $108.50
NOTE: Check the school term and holiday dates.
School holiday classes
5 x 30-minute lessons $52.50
5 x 45-minute lessons $73.40
Boating Survival and Safety Course: $31.40
Summer Swim School – 5 lessons $52.50
Diving classes – $62.70
One-on-one learn to swim classes
5 x 20-minute lessons $142.80
5 x 30-minute lessons $163.00