Swim School Holiday Hours
All Term 4 classes will end the week of 14–20 December.
The Swim School office will be closed over the holiday period from Tuesday 22 December to Monday 4 January, 2021.
Term 1 classes for 2021 will begin from Monday 1 February, 2021.
Summer Holiday Lessons
During the summer we offer holiday swim classes for kids across a range of swimming abilities. Whether your child is an experienced swimmer or reluctant to get into the pool, we have a class for them!

Classes comprise 5 lessons over 5 days, with the lesson time (either 30 or 45 minute) determined by the ability level of the class.

Week 1 lessons: 18–22 January 2021
Week 2 lessons: 25–29 January 2021
| | | |
| --- | --- | --- |
| Lesson length | Price | Swimming level(s) |
| 5x 30 min lessons | $52.50 | Turtle (preschool), Lobster (beginner schoolage) |
| 5x 45 min lessons | $73.40 | Porpoise, Dolphin, Shark, and advanced levels: Seal, Penguin, Mussel |
For new learners, the holiday programme can be a great way to introduce them to the pool and to build up their confidence in the water over five days.
For kids who love to swim the holiday programme is a great way for them to consolidate the skills they've learnt during the year. It's amazing the progress that can be achieved over five days of lessons!
Enrol your child
To enrol your child for the holiday program simply fill in an enrollment form at reception next time you visit or email swimschool@splashpalace.co.nz.
Swim School Term 1 2021 Dates

Day
First lesson
Last lesson
No. of lessons
Mondays
1 Feb 2021
12 Apr 2021
9
No lessons on 8 Feb (Waitangi Day observed) and 5 Apr (Easter Monday)
Tuesdays
2 Feb 2021
13 Apr 2021
10
No lessons on 6 April (Southland Anniversary)
Wednesdays
3 Feb 2021
7 Apr 2021
10
Thursdays
4 Feb 2021
8 Apr 2021
10
Fridays
No lessons
Saturdays
13 Feb 2021
10 Apr 2021
7
No lessons on 6 Feb (Waitangi Day), 27 Feb (event booking), 3 Apr (Easter Monday), 17 Apr (event booking)
Sundays
7 Mar 2021
11 Apr 2021
5
No lessons on 4 April (Easter Sunday)
---
Take the Swim School Customer Survey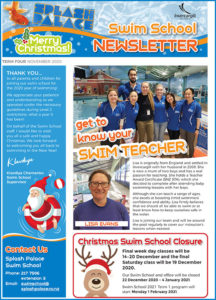 Please contact swim school via email swimschool@splashpalace.co.nz or phone call 03 217 7506 if you would like any further information.
The Splash Palace Swim School provides quality and affordable swimming lessons at the Splash Palace and Bluff pools. The Swim School focuses on providing confidence for children in and around water and to advance their abilities to a level where they can participate in aquatic sports and other recreational activities.
"In the water teaching" for babies to beginners is part of the unique programme offered by the school's qualified, professional and dedicated swim teachers. Small class sizes ensure individual tuition. Achievement certificates are awarded at the end of each course.
Teachers
Splash Swim School has 14 trained teachers. They all hold or are working towards their Aust Swim STA award, and three teachers have a Diploma in Swim Teaching. Each teacher has a current first aid certificate and Pool Lifeguard award. Splash Palace is also a Quality Swim School, a standard set by Swimming New Zealand.
Classes and prices for 2020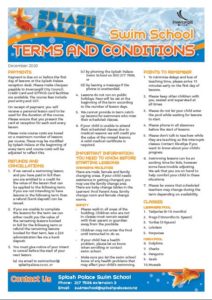 All prices include GST and pool entry.
School-term classes
Baby classes: Tadpoles and Frogs 8 x 30-minute lessons $79.20
Pre-school classes: Turtles 10 x 30-minute lessons $92.00
School-age classes: Lobsters, Porpoises, Dolphins and Sharks: 10 x 30-minute lessons $110.00
Penguins: 10 x3 0-minute lessons $110.00
Seals: 10 x 45-minute lessons $115.20
Mussels: 10 x 60-minutes lessons $120.30
Adult classes: 8 x 30-minute lessons $108.50
NOTE: Check the school term and holiday dates.
School holiday classes
5 x 30-minute lessons $52.50
5 x 45-minute lessons $73.40
Boating Survival and Safety Course: $31.40
Summer Swim School – 5 lessons $52.50
Diving classes – $62.70
One-on-one learn to swim classes
5 x 20-minute lessons $142.80
5 x 30-minute lessons $163.00