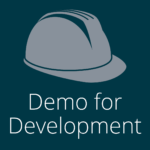 Latest – 11 March: The Invercargill City Council, NZ Transport Agency, and ILT have been working together to minimise disruption while continuing to keep the area safe.
From 6am Saturday, March 23, until Sunday, April 7, detours and alternative access routes will be implemented throughout the inner-city:
Dee Street, between Don and Esk Streets, will be closed to southbound traffic. Detours will be available. More info here.
Business access only will apply on the eastern side of Dee Street between Spey and Don Streets.
There will be some business access available on Don Street, which will temporarily be two-way.
In an effort to maintain access to Esk Street businesses, Esk street will be temporarily reversed, so that vehicles may travel from Kelvin Street through to Dee Street via Esk Street.
Please take care to obey all road signs.
Click here for bus route changes
Recent News:
Demolition on Track as Hotel Name revealed
Ryal Bush Transport the right team for the job.
Background – January
Work to begin on corner of Don and Dee Streets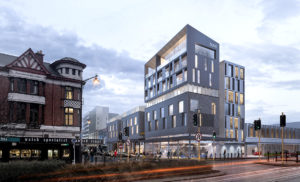 Part of the inner city's streetscape will begin a transformation early next month, as preparation work starts for the ILT's hotel development.
The building on the corner of Don and Dee Streets, known variously as the Caledonian or the Langland, will be demolished to make way for the new development, and this work is expected to begin in early February. Members of the public will soon notice changes to Don Street, with acoustic walls to be put up, and a container-lined walkway developed to maintain pedestrian access in the area.
The demolition of the three-storey building is a mammoth task, which will be undertaken by contractors Ryal Bush Transport Ltd. Safety is of the utmost importance, and so while there may be some inconvenience and disruption caused by the work, this is to ensure the safety of everyone in the area, including residents, businesses, contractors, and the public.
ILT or Ryal Bush Transport representatives will be visiting businesses in the inner-city area in the coming weeks to keep retailers up-to-date on the works, and what impacts they may have.
ILT Chief Executive Chris Ramsay acknowledged there would be some disruption during the demolition and build phases of the project. "We are working closely with ICC and our contractors to ensure this is minimised as much as possible. "The finished project will only add vibrancy to our CBD," Mr Ramsay said.
The ILT secured a resource consent to demolish the Victorian building following the decision of an independent commissioner in December 2018.
Updates on the work, including any road closures or diversions, will be advised as available through both Council and ILT publications, and online:
Keep an eye on the Invercargill city website: www.icc.govt.nz
Follow Invercargill Word on the Street on Facebook: www.facebook.com/InvercargillWordontheStreet
Follow the ILT on Facebook: www.facebook.com/InvercargillLicensingTrust