The Suqian Friendship Garden in Queens Park opened in June 2020.
The completion of the Chinese Garden marked another milestone in the long-running relationship between Invercargill City and Suqian City of Jiangsu province in China.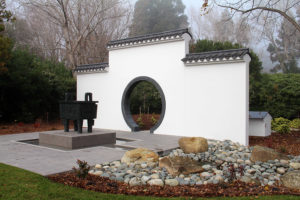 Since forming sister city ties in November 2013, both cities have interacted and developed in the fields of education, sports, culture and trade.
From this relationship the two cities built and developed gardens symbolising mutual friendship and cooperation.
Suqian City provided the initial design plans and gifted Invercargill the Friendship Bronze Cauldron – the centrepiece of the gardens.
In exchange, Invercargill provided its own design for the Invercargill Garden in the Santai Mountain National Forest Park, as well as the gift of ventifacts – unique stones sculpted and polished by long-term exposure to wind-driven sand.
The Suqian Friendship Garden is open to all those visiting Queens Park, and is located near the Winter Garden.
Watch this video made by the Invercargill Chinese Students & Scholars Association