Queens Park, without doubt the grandest of all the Invercargill parks, is rich in dating back to the city's beginning.
In 1857, John Turnbull Thomson, the Chief Surveyor for the Province of Otago, laid out the new town of Invercargill.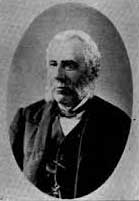 Fortunately for Invercargill, Thomson (pictured) had the foresight to set aside 81 hectares (200 acres) of land that was later to become known as Queens Park. His careful planning of the reserves and wide streets remain a characteristic of Invercargill today.
An early map of the new town drawn in 1863 shows that Queens Park was originally covered in native forest. This vast indigenous podocarp/swamp forest covered much of Invercargill at the time of Thomson's survey.
The forest held spiritual significance to local Maori who referred to it as Taurakitewaru. Thomsons Bush reserve, to the north of Queens Park, is a small remnant of this original forest.
The first formal planting in Queens Park did not occur until the late 1870s after Thomas Waugh was appointed as the first Borough Gardener in 1872. At this time seeds of Pinus radiata and Cupressus macrocarpa were distributed from the Wellington Botanical Garden, and some were sent to Invercargill. The oldest trees found in Queens Park today of those two species are believed to have originated from that source.
Apart from shelter plantings, it would appear that there was no attempt to plant ornamental trees or to beautify the Park until around 1911. Until that time the Otepuni Gardens were the principal town gardens and all horticultural attention was concentrated on that area.
Queens Park had various uses before being developed into the park we know today. Originally cattle were grazed on the park on land leased in 10-acre blocks. During the 1880s the park became the site of the Southland Agricultural and Pastoral Association's show grounds.
The Association used Queens Park for 30 years and during this period the Caledonian Society, the Amateur and Irish Athletic Societies and the Cycling Club held meetings at the Queens Park showgrounds. Both the Invercargill Cricket Club and the Invercargill Tennis Club were based in Queens Park at this time.
A racecourse was also laid out in Queens Park and the first race meeting was held in April 1885.
In 1911 the Invercargill Suburban and Beautifying Society began to advocate improvements to Queens Park, and to celebrate the Coronation of King George V, an avenue of trees was planted along Coronation Avenue on June 22, 1911.
From that point onwards there has been a continuing and steady development of the horticultural features of the park as each successive Borough Gardener, Superintendent, Director and Manager have left their marks.
Queens Park is now the jewel in the crown of the city's reserves and is widely acclaimed throughout New Zealand.