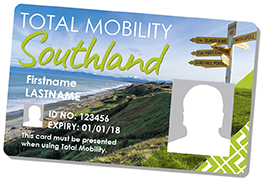 Total Mobility is a nationwide scheme that provides subsidised transport to people with impairments.
In Southland, Total Mobility is a shared service that incorporates Gore District Council, Southland District Council and Invercargill City Council; it is administrated by the Invercargill City Council. The scheme provides half-price fares for transport up to a maximum subsidy of $25 per one-way ride using a Ridewise card.
Who is eligible?
The total mobility scheme is available to people who have an impairment because of a physical, sensory, intellectual, neurological or psychological impairment and are unable to get to a bus without help or assistance.
Who accepts Total Mobility Ridewise cards?
* Wheelchair Hoist Vehicle Available (Bookings essential)
How to apply
To apply you need to complete an application form with an approved issuing agency. Your application will then be processed by the Invercargill City Council. Once processed, your trips will be granted depending on your needs and available budget.
Who are the approved issuing agencies?
NOTE: Some agencies might charge a fee; please ask about this when making an appointment to complete an application.